Hundreds of Confederate Flag supporters gather in Cartersville | News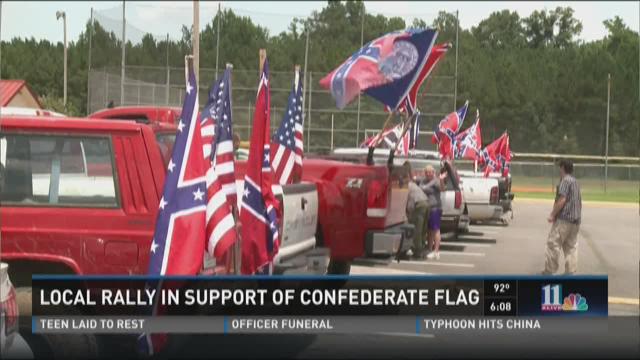 CARTERSVILLE, Ga. -- There were cheers and applause in South Carolina as the Confederate Battle Flag was lowered and removed from the capitol grounds.
Despite the rapid changes seen in that state, however, the controversy over the flag is far from over – and not everyone is happy about those actions.
There have been rallies in support of the banner – including one in Cartersville, Ga.
Hundreds of cars and trucks filled the parking lot for a rolling parade and protest outside of a local Walmart.
The group is upset that the store has stopped selling items with the confederate flag on them.
Those who choose to fly it said they are trying to protect a piece of their history.
The latest backlash against the flag started after the massacre of nine innocent people in a Charleston Church that police said was an avowed racist.
Dylann Roof had taken several pictures with the Confederate Flag and a gun in the days before the shooting.
Proponents of the flag said his actions are not representative of most who fly the banner to honor the fallen and celebrate southern heritage.
But the incident has since led to the flag being removed from multiple retail stores and government buildings as the fatal shooting once again rouses its connections to groups like the Klu Klux Klan who would later adopt the flag as their own.
Related stories:
Stone Mountain PD steps up security after flag theft
Confederate flag vandalized in Austell
South Carolina takes down Confederate flag
Historians say fleur de lis has troubled history
Stone Mountain boycott backer: Backlash ugly, enlightening
S.C. capitol will take down Confederate flag by Friday
Confederate flag debate begins in S.C.